Life is an endless chain of coinsidences. And only those who comprehend the truth understand that these coinsidences are the way.
Everything will happen the way it should.
We should be ready and wait. Do not sit and wait, of course. Work, create and believe, etc.
And it happened so with our story, which is called "Andre Tan".
Thought came…
Ideas appeared…
They agitate the imagination and ran away on their own business..
But one day they all stayed in the head and said – come on!
Call.
Quick decision about the meeting.
Lo and behold! Everything began to spin and turn…
We 've known a lot about him, we've understood the level and caliber. We've seen many of his collections.
And we've heard about A.Tan FAMILY PARTY..
But, as they say in Odessa, hearing and participating are two big differences.
We will tell you about this second difference.
ACQUAINTANCE
What can we tell about a meeting with a star?
It's cool, Jeez! You meet with a person from the magazine cover, from the TV screen, with a living legend.
Thrill!
Girls, that's it!
But, the caliber of a person is the result of the path he has passed, the result of his work and achievements. And if he really had passed that way he knew exactly what success was and what his real price was
Andre understood the "price" for success perfectly 🙂
That's why he is simple, open and incredibly kind.
Such can be a person who is sincerely keen on his work. Evidently in the minds of ideological people there is an unspoken code of respect for colleagues in "misfortune" fortune of being crazy about their work.
That's all. The energy contact took place.
It is easy, as in weightlessness.
We spoke the key points, determined the goals and the process began.
A PARTY
It was getting dark…
Special Forces Pudra Cosmetics have been on their position for a long time. Our combat mission is to make everyone beautiful and to make someone happy if it is possible.
Easy! – answered the special forces.
We get the secret weapon and into battle!
🙂
We worried of course..
Now we can joke. But then everything happened quickly. We had to do a "catwalk" make-up for three dozen of models that demonstrated the Spring-Summer 2017".
– How?
– In the way you feel it.

Laconic, but it is precisely such tasks that excite really enthusiastic and creative…
We got excited and started to work!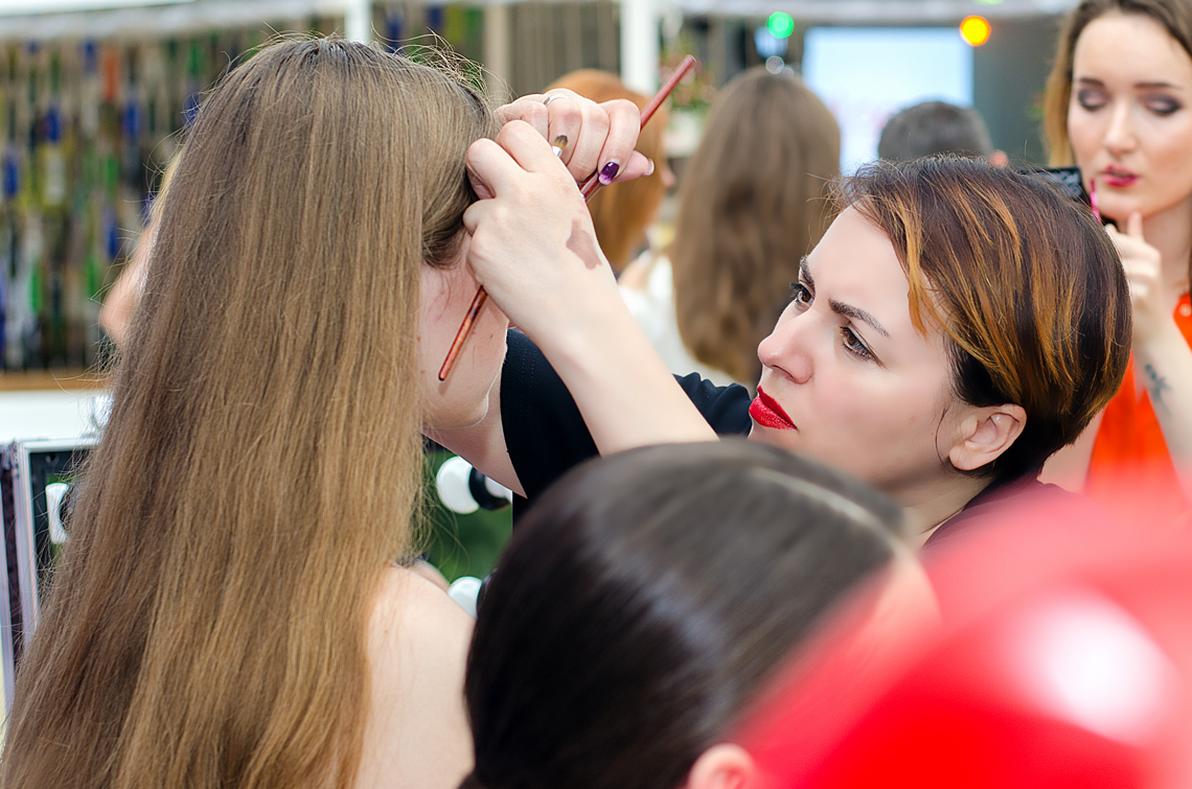 It's an amazing feeling to be a part of a big project that is incredibly time concentrated.
A clot of energy…
You feel it physically.
Excitement, stress and incomparable pleasure to work in a team with professionals.
The quality of the "shoulder" is checked in improvisation as in fight.
Confidense, the feeling that your "musical party" is a zone of your personal responsibility and at the same time is a part of the overall grandiose symphony.
We improvised.
About the quality of our shoulder we will ask Andre later.
PERCEPTION
Being a spectator and an actor is a smart test for the psyche.
It was very exciting!
We worked and absorbed at the same time.
Do you know what was the most interesting? (Except of secular pathos, of course) 🙂
Andre Tan, as you probably know, is the author of the Smart Couture – style – an intellectual fashion for modern women.
The concept of this trend is a – collection of fashionable clothes, wearable in real life, comfortable and made of natural materials. The main feature of this trend, as it seemed to us, is that ideas for collections of clothing design are freely available around us. Ideas that life itself tells.
So the most surprising is the apparent simplicity with which Andre Tan catches these air-floating ideas and turns them into beauty.
And with forbearance that inherent to genius, he invites us to do the same.
It looks like a trick.
Magic, when you do not know the secret, and simple, when you are told about it.
That evening Andre Tan happened to be a magician.
He showed tricks and revealed their secrets.
Everyone was delighted, and it seemed to us that each of us came home, took scissors and did the same – genial!
But…
Illusions evaporated like a martini after a party 🙂
The wizard was real.
And the magic – too.
GRATITUDE
What is in the end? Usually at the end of such articles, they thank and say – "the party was a success".
Yes..
It was a success certainly.
Yes.
And we will also thank.
Thank you Andre Tan!
Let's write for what.
For trust, for cooperation, for the whole cycle and a fantastic drive.
Thanks the team of Andre Tan!
For coherence, correctness and professionalism.
Guys, You are cool!
Thanks the models – they endured our «executions» and turned the noses correctly, as it was convenient for the make-up artist.
Thank Pudra Cosmetics team!
We're just a hurricane!
Well, a few photos, as it was …