How to choose the right color of the foundation?
The correct color depends on your face tone.
The golden rule: the color of the foundation should not repeat the color of your face. If you have a pink complexion – avoid pink tone and give preference to beige.
If you have a yellowish complexion – choose beige-pink.
And finally, if you have a swarthy skin- avoid the beige tone, it will give your face a greyish shade. Choose a dark beige or beige apricot.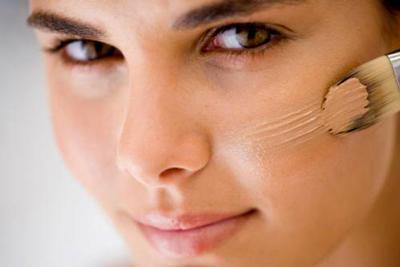 In order to choose the perfect color tone, you need to test it when buying.
In different parfume & cosmetics shops I often watch how young ladies test a foundation on the inside of their wrist.
But this is a mistake, because our face is not the same color as the wrist!
Put some test tone on your face to see the effect that it gives to your face.
The best color of the foundation is not in color, but in tone.
If the color of the foundation is too dark for your skin, the result will be artificial.
If the foundation is too light, you will have a slightly tired, pale look.
How to choose the right texture?
The choice is also made depending on the skin type.
You can read more here.
How to apply a foundation?
Not with your fingers!
If you apply a foundation and rub it with your fingers, it always turns out too much. As the result, the tint of the foundation is not monochromatic and not stable.
I always advise you to apply a liquid foundation with a slightly moistened sponge, from the center of the face to its outer sides.
Немного продукта вполне достаточно.
For the upper part of the face: stop at 2 cm from the roots of the hair and rub it with your fingertips.
For the lower part of the face: stop under the chin.
Is there a way  to make yourself a perfect complexion for the whole day?
Start your day makeup with a moisturizer.
After that remove the fatty film that remains on your skin after the cream.
Apply the corrector under the eyes before applying your liquid foundation.
Wait a few seconds for the skin to dry out and then finish the make-up with loose powder , don't forget the inner corners of the eyes and hollows of the chin,  there is a tendency to shine in these places.
This is a classic way  of make –up applying , it is studied in any  Make –Up Artists school.